---
Major paint companies choose colors of the year that are fresh, upbeat and mostly on the cool side
---
Pantone, the color management company, recently announced its pick for 2020 Color of the Year; most of the major paint companies also pick colors they think will dominate homes in the year ahead. As usual, the selections are a mix, but there are some clear trends this time around, and the colors lean rather cool. Let's see how these nine colors might work in your home.
---

Greens and blues are continuing their run as on-trend hues. But compared with the 2019 Colors of the Year, these colors are fresher and less moody. In fact, with a couple of exceptions, I'd say they convey a rather hopeful vibe.
It's important to point out that you should always decorate with colors you love, regardless of what is considered trendy. As you can see here, there's really no solid consensus on what is going to be the "it" color in 2020. So rather than feeling like you have to bring one of these hues into your home, think of this as a source for inspiration if you are looking for a change and you see something you like.
Let's take a closer look at all the colors and see how they might work in or on your own home.
---
1. First Light From Benjamin Moore
It looks like Millennial Pink isn't going away quietly. This version, Benjamin Moore's selection for Color of the Year, is a lighter and more neutral version of the hue.
It's a soft blush with a hint of orange, which keeps it from veering too sugary sweet. But notice how different it looks depending on the light conditions in a room. This photo and the next both feature First Light on the walls, but in this photo, the color appears warmer, or more orange, and in the next photo it is cooler, pinker.
Colors like these will change throughout the day, depending on the quality and direction of the light, both natural and artificial.
Before you commit, have your interior designer or paint professional create sample boards that you can move around the space during different times of the day. Pay particular attention to how the color looks during the time of day you are most likely to be in the space, to make sure you like how it looks and that no unappealing undertones are revealed.
---
2. Sun God From Kelly-Moore Paints
Kelly-Moore is going for the gold with this sun-packed hue. It's a bit intense for a dominant hue in a space, but check out how nicely it works as an accent color on this fireplace.
An easy and affordable way to create a bold focal point in your home is to paint an interesting feature or element in a room with a saturated sunny hue such as this.
---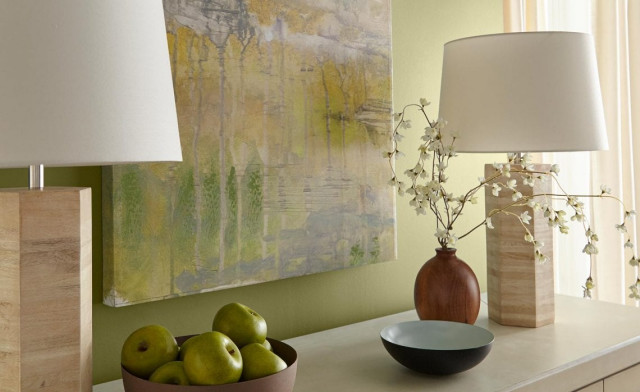 3. Back to Nature From Behr
This hue is giving me slight flashbacks to the ubiquitous avocado green from my childhood in the 1970s, but I like how it's used in the spaces shown here and below.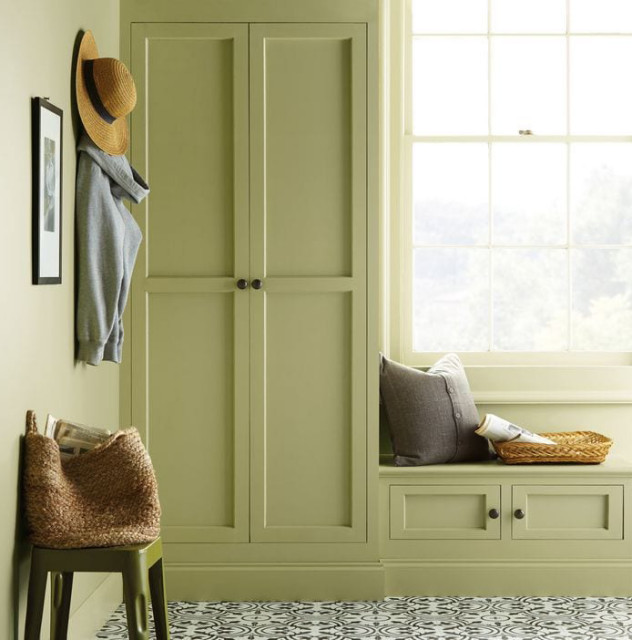 There's a good bit of gray in this green — making it nearly a neutral — yet it doesn't veer muddy, which keeps it out of avocado territory.
I think when used in a well-lit space and paired with other soft, fresh hues, it has a pleasing, organic quality. White and black accents add a crisp and modern feel.
---
4. Minty Fresh From Dunn-Edwards Paints
My own personal just-for-fun prediction for a 2020 Color of the Year was a hue similar to this. It's a soft blue-green that creates a chill-out vibe.
This can serve as a nice alternative to light gray when you want a mellow hue to break up expanses of white. Here it looks clean, unfussy and fresh — a perfect New Year's resolution color for the home.
---
5. Songbird From Pratt & Lambert Paints
Pratt & Lambert's selection is very similar to the previous color; just a click or two darker. It's a pretty, tropical hue that works well with other cool hues as well as wood tones.
---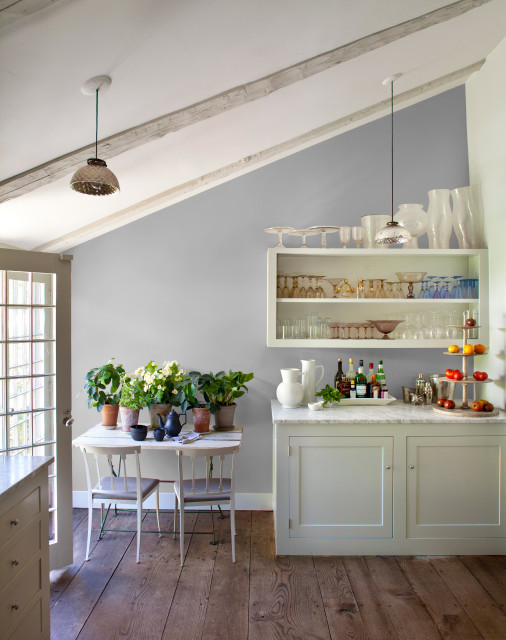 6. Whirlwind From Glidden
Glidden is making a bold statement with a soft hue this year. Instead of announcing a Color of the Year, with all of its associated (and often pretentious) trend-forecasting language and fanfare, the company instead put forth a solid neutral that works in any room and with any style, and will stand the test of time.
It's not clear if Glidden will select another color for 2020, but I included Whirlwind in this roundup because I do think it's a nice neutral. It's a very cool light gray that plays well with other colors.
And I applaud the notion that you should simply pick colors you like. Whirlwind is one of Glidden's most popular colors, which is why the company chose it. Disposable decorating is just not sustainable. Select colors you love, and you'll keep them around longer.
---
7. Chinese Porcelain From PPG Paints
This selection is very similar to Pantone's just-announced Color of the Year. Chinese Porcelain is an inky cobalt that's lighter than navy but manages to bring a similar stylish elegance to a space.
What I really like about this color is that it can serve as a neutral. Think of it like the denim jeans that you can pair with a shirt of any color. It can go modern or traditional, formal or fun.
---
8. Naval From Sherwin-Williams
I guarantee that any design pro who specifies Sherwin-Williams paint is familiar with this color. Naval is a go-to hue for everything from cabinetry to accent walls to exteriors.
Here it's used as a striking front door color. It can serve as an alternative to black or dark gray when you are looking for something a bit livelier. Of course, it is rather dark, so unless you are going for a superdramatic, moody look, it's best to use it in small doses and in areas that get lots of light.
---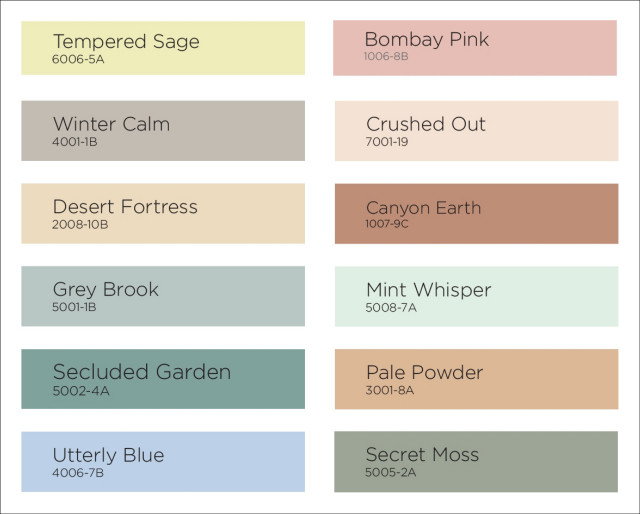 9. Various Colors From Valspar
Lovers of warmer colors rejoice; Valspar has you covered. The paint company is promoting a handful of hues over a single "it" color. Shown here are 12 selections for 2020.
This assortment veers somewhat traditional, but there's something for almost everyone. And because most of these hues have a rather toned-down or muted quality to them, they would work just as well outside as inside, especially for people desiring something beyond ubiquitous white, gray or tan for their home's exterior.
---
Your turn: What colors do you plan to use in 2020? Tell us in the comments.
---
---
Original Post Written by Jennifer Ott via Houzz.com. All credit to Houzz and Jennifer Ott.
Ott, Jennifer. "Will These 9 Paint Colors Take Over Homes in 2020?" Houzz, 12 Dec. 19AD, https://www.houzz.com/magazine/will-these-9-paint-colors-take-over-homes-in-2020-stsetivw-vs~129471699.