---
Review our checklist to find out if your house will work for you and your family as you get older
---
Being able to live in your own home as you grow older is certainly an appealing option — and with the right preparation, it can be possible to create a safe and comfortable space that supports you now and in the future. If you're thinking about aging in place, reading through this guide is a good first step. We'll look at big-picture concerns (like location and lifestyle) as well as the room-by-room details you need to consider to make your aging-in-place goals a reality.
---
---
Explore Your Options
---
While reading through this checklist, it might be helpful to jot down the items your home needs to ensure that it will be safe and comfortable for the long term. A few easily installed safety features might be all that's missing — or you might realize that a larger-scale remodel (or even a move) is in order. Here are a few potential paths to aging in place to keep in mind:
Adding or upgrading safety features in your home without any major remodeling

Completing one big project (like installing an elevator) in addition to smaller safety tweaks

Embarking on a more significant remodel — such as adding a ground-floor accessible master suite (as seen here)

Downsizing to a smaller, lower-maintenance space (an option that may or may not also require remodeling)

Working with an architect to design your forever home from scratch
---
---
Big Picture: Size and Cost
---
With higher costs on everything from roofing to house painting, keeping up with a big house can wind up costing more than you expect long-term — making overall square footage an important factor to consider. But that's not to say it never makes sense to age in place in a larger house. If you plan to have kids or grandkids staying with you regularly or want to provide space for a live-in caregiver and you can comfortably cover the costs, a spacious home may be a good fit.
---
---
Big Picture: Exterior
---
Similar to interior square footage, your home's overall lot size can have a big impact on how easy (or challenging) it is to age in place. An expansive landscape and meandering driveway that seem charming now might feel isolating and costly to maintain in years to come. Here are some specific exterior features that can help your home support you:
At least one barrier-free (i.e., no steps) entry with ramps as needed

Driveway, walkways, and porches in good repair

Exterior stairways secured with sturdy railings and non-slip treads

Good lighting along all paths and stairs

Regular maintenance of trees to prevent falling limbs

Locking patio doors, secure windows, and motion-activated lighting
---
---
Big Picture: Location and Lifestyle
---
Where your home is located has a big impact on your lifestyle, from how often you're able to get together with friends and family to the ease with which you can access health care services and run errands. Here are a few things to keep in mind when it comes to location, lifestyle, and aging in place:
Proximity to friends and family: How many loved ones live nearby?

Walkability: What's within easy walking distance of your home?

Transportation options: Is public transportation available? Is an airport nearby?

Climate: Are extreme weather conditions a concern where you live?

Businesses and services: Is it easy to access health care and other services?
---
---
Room by Room: Kitchen
---
A well-designed and properly outfitted kitchen can make daily tasks easier, safer and more comfortable. Here's what you need to make your kitchen work now and in the future:
An accessible kitchen layout that allows a wheelchair to maneuver freely

Clearance below sinks and workstations for walkers and wheelchairs

Table-height seating

Layered lighting above and below cabinetry and toe-kick lighting

Shallower sinks
Base cabinets with drawers or rollout shelves

Easy-grab cabinet pulls

Pullout pantry shelving

Appliances for universal design, such as refrigerator drawers and induction cooktops

Rounded-edge countertops
---

---
Room by Room: Bathrooms
---
Bathrooms are one of the most frequently used spaces in the home, and they're wet zones, which means slips and falls can occur here more easily than elsewhere. Look for these key features to make your bathroom safe and accessible:
Spacious zero-threshold shower with room for a walker or wheelchair to navigate

Sinks with wheelchair and walker access beneath them

Comfort-height toilet

Universal lighting scheme that includes vanity, shower, tub skirt, and toe-kick

Grab bars positioned by toilet, shower, and bath

Nonslip flooring

Handheld shower head

Sturdy shower bench
---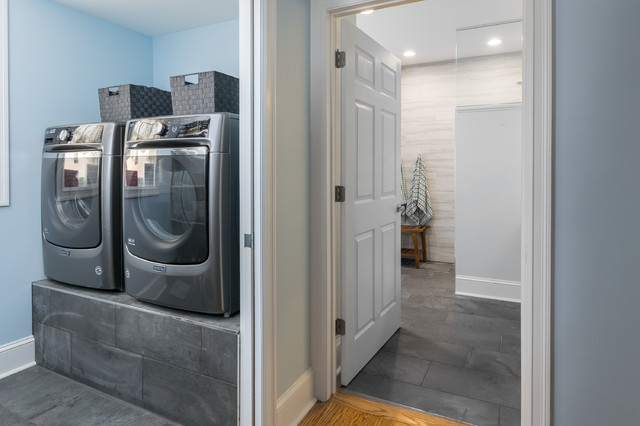 ---
Room by Room: Laundry Room
---
Basement laundry rooms are very common — and unfortunately not ideal for aging in place. Look for a laundry room on the main floor, and consider elevating the washer and dryer on a platform (as shown here) to avoid having to bend down while doing laundry.
---
---
Room by Room: Bedrooms
---
Bedrooms often don't need much in the way of modifications for aging in place — grab bars by the bed and ample clearance around furniture should suffice. But there is one big exception: If your master bedroom is currently on the second floor, you'll need to consider the potential problem of stairs. Here are three possible solutions:
Add a master suite to the first floor and use upstairs bedrooms for guests.

Install an elevator or chair lift.

Downsize to a single-story home.
---
---
Big Picture: Throughout the Space
---
In addition to the room-specific features mentioned, it's a good idea to consider how whole-house systems can support (or thwart) your aging-in-place goals. Here are a few more things to think about:
Nonslip flooring in main living areas

Rugs securely affixed to the floor to avoid slipping

Removal of clutter and other tripping hazards

Good lighting, including night lighting

Motorized window shades, especially for large windows (as seen here)

Security features and systems, both to deter intruders and to easily call for help
---
Your turn: Are you or your parents considering aging in place? Share your experience in the comments.
---
---
Original Post Written by Laura Gaskill via Houzz.com. All credit to Houzz and Laura Gaskill.
Gaskill, Laura. "Is Your Home Accessible for Aging in Place?" Houzz, 18 Jan. 2020, www.houzz.com/magazine/is-your-home-accessible-for-aging-in-place-stsetivw-vs~122902650.
---